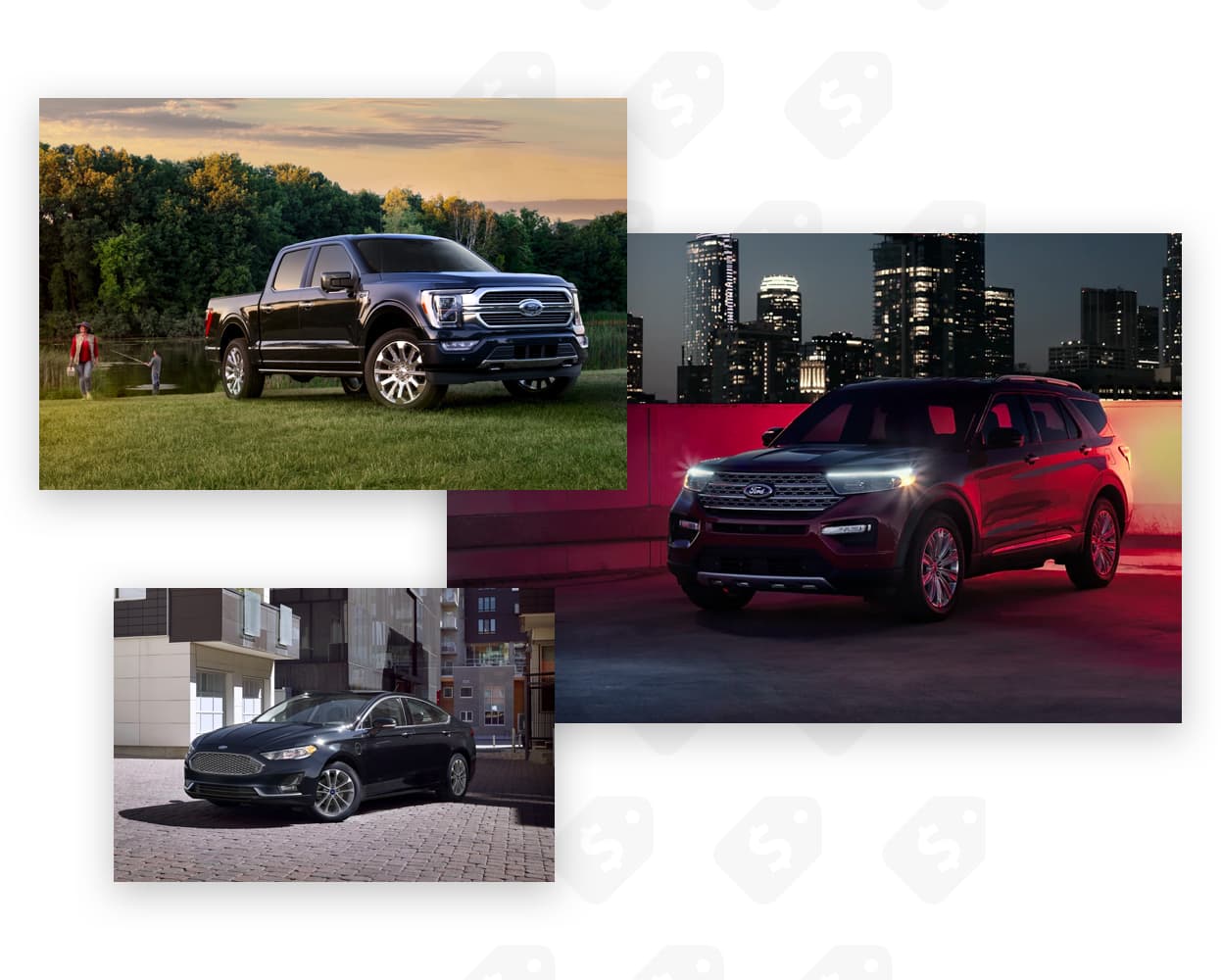 Take Advantage of This Month's Current Offers
Every month Ford releases incredible cash-back offers and special financing rates along with discounts featured in other special programs.
We're Here For You
Jones Ford Buckeye always puts customers first!
Don't take our word for it: Read our reviews and see what everyone is saying.
Great customer service! Easy to work with! They had exactly what we were looking for!
I had a great experience with Jones Ford Dealer And with the salesman Lalo Castrilla
I had my 2019 F-250 Super Duty 6.7L diesel in for oil leak repair. The service department was fantastic to deal with. Set an appointment date to drop off my truck and got it back pretty close to estimated time promised. Highly recommend their service department!
Service provided is always of the upmost quality along with courteousness from all related personnel.
The best customer service is provided which includes updates on trucks current and upcoming service. Personnel are courteous and answer any questions regarding current service or future service required to enable maintain truck reliability.
Best car buying experience I've ever had. The Jones Team was fair and great to work with.
Great customer service! Everything was taken care of quickly and efficiently. Will recommend to friends!
I came in with an appointment,they wrote the truck up. Had two recall issue and needed an oil change. Out in 3 hours no fuss. Would come back again
Found the vehicle we searched for and found it at Jones. Was able to get a good deal on our trade-in and are very satisfied. Lalo Castrillo was very helpful filling in for Josh. who I spoke with the day before.
From the first person to leaving, friendly, professional, kept informed, thorough. a clean and pleasant environment.
No hassle, straight forward, and great pricing from this dealership. Easiest car buying experience I have had ever. Will for sure buy from them again if they have the next car I want.
It was a pleasure to work with Josh, coming from someone that works in car sell, I know what its like to be on the other end. But him and also the staff were extremely friendly. I would highly recommend to shop that there store
Had a problem with factory paint warranty. Tabitha did an outstanding job rectifying the problem. Thank you Tabitha
Great experience. I have used this dealer for years Ryan and Lola have been excellent at taking care of all are needs
Service advisor personally drove to my residence to replace a bad battery, exceptional service
I am writing this review because I recently had a regularly scheduled oil change done on my truck at Jones Ford Buckeye. But my story begins before this when I purchased my used F-150 almost 2 years ago. I've had oil changes and other repairs completed their since then and everything about my experiences their have been outstanding. I will go back for future vehicles, maintenance and repairs, and wouldn't hesitate to recommend them to others.
Fabulous buying experience with Tylor the salesman!
We were not in the market for a Ford Ecosport, but so happy we came to Jones Ford Buckeye. Easy, no pressure car buying experience. All associates treated us fairly and professionally. Application process was very easy and all the paperwork was completed quickly. The best part was we didn't have to make a decision the same day we came in. They gave us no pressure when we went home to consider everything. We came back the next day and bought the car.
This is an unusual auto dealership - by unusual i mean excellent customer service - they don't try to upsell you when you bring your car in for service - when i leave the dealership what they said they did is done and i don't have to go back to have it done again - i have a Lincoln which they service as their location is convenient and the closest Lincoln dealership is not - that should tell you everything you need to know.
Wasn't looking to buy today got good deal on what I wanted. Salesperson (Eric Morales) was great👍👍👍. So far I would use this dealership again
Our car is serviced at Jones Ford regularly, and service is great every time. Definitely recommend.
Great dealership. Get taken care of quickly and truck comes back a lot cleaner than when i bring it in. Great, comfortable waiting area and friendly staff. Would never purchase a Ford or bring mine for service anywhere else.
I enjoyed the comfortable waiting room, using the time to catch up on my reading.
In mid March our 2017 Ford F-450 flashed a "Service Engine" light along with an illuminated wrench. At that point it would only travel in 5th gear when it was in drive. I called Jones Ford in Buckeye, AZ to schedule an appointment t o bring my truck in to diagnose the problem. A few miles down the road the truck would not go above 25 MPH. At that time I called for a tow truck and had it taken to the dealership. Through a series of very unfortunate circumstances, it took over 6 weeks to make the necessary repairs. Throughout that time we were provided with a loner vehicle. The service department was relentless in their pursuit to complete the repairs. Thanks Scotty, Tabitha and Dan! You all did great!!
Just a regular oil change and all the extras they do so well. Jones Ford always provides great service...used the coupon they sent and it was very affordable.

Welcome to Jones Ford Buckeye
---------------
Buckeye's Own New and Used Ford Car, Truck, and SUV Dealer!
As your preferred new and used car, truck, and SUV dealer in Buckeye, we know that purchasing a new Ford can be a bit overwhelming. Finding a Ford dealership near Goodyear or Litchfield Park isn't everyone's idea of a fun Saturday afternoon: you have a lot of options but they aren't all created equally. That's why we here at Jones Ford Buckeye always aim to be the best new and used car dealer in the Greater Phoenix Area, including Avondale, Surprise, and Peoria. We strive for a Ford buying experience that is almost as fun and stress-free as driving the vehicle itself. No matter what your needs are, from finance to service and parts, we want to be the ones who get you back on the road again sooner and for less!
Your Local Area Service Experts
Of course, it doesn't stop there. Our mission is to be the automotive resource for drivers in Buckeye and beyond. We not only aim to continue to build on our reputation as a dealer with an incredible selection of new and used Ford cars, trucks, and SUVs but as a place for next-level after-sale service as well. Whether you are in Goodyear, Avondale, Surprise, Peoria, or right here in Buckeye, we are the local area new and used Ford dealer you can count on to keep you rolling for many years to come!
Get in touch with us today to book your test drive!
Contact Us
Jones Ford Buckeye
24600 West Yuma Road
Buckeye, AZ 85326
Sales:
877-934-0012
Service:
877-962-2280
Parts:
877-849-7582
Directions