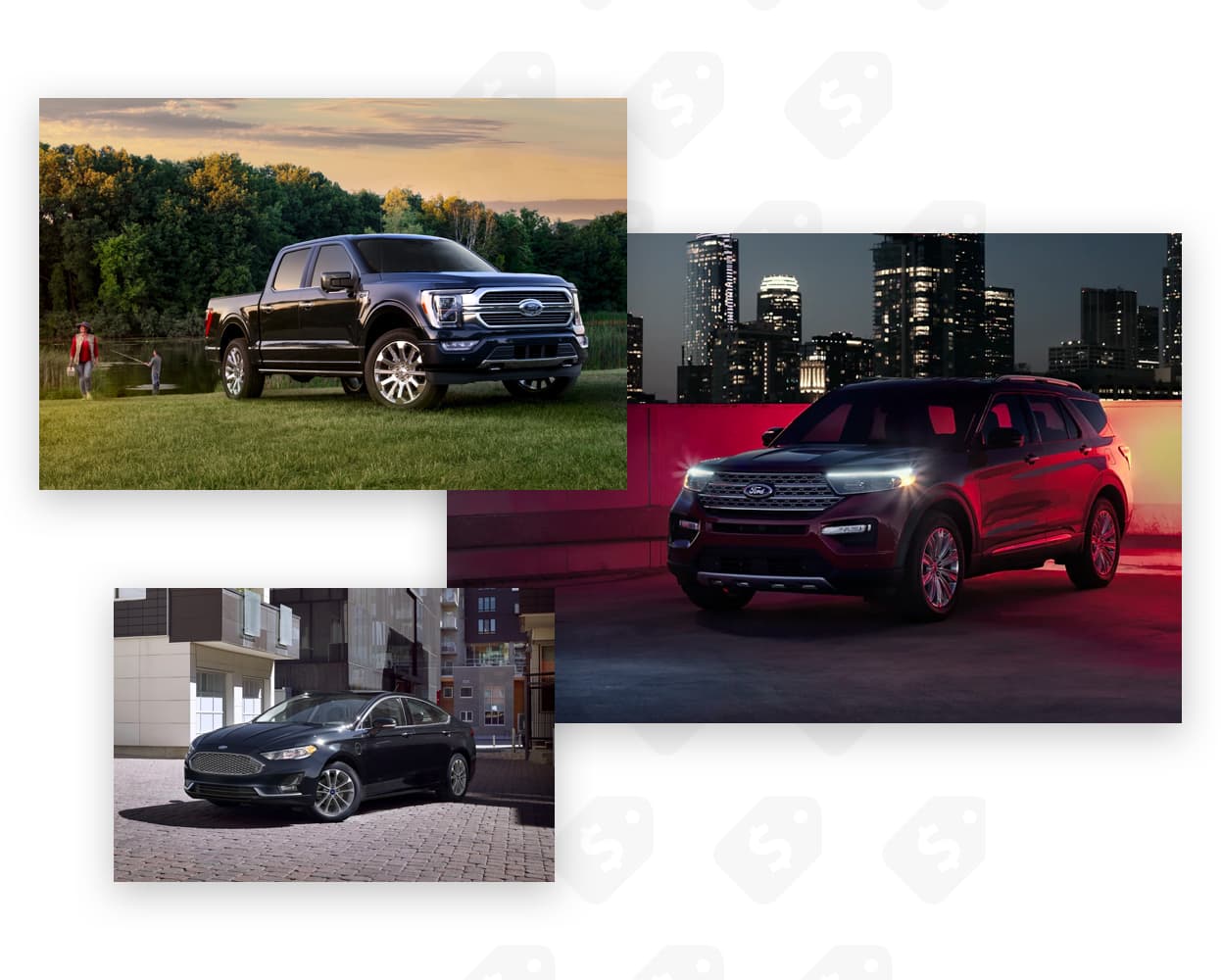 Take Advantage of This Month's Current Offers
Every month Ford releases incredible cash-back offers and special financing rates along with discounts featured in other special programs.

Welcome to Jones Ford Buckeye
---------------
Buckeye's Own New and Used Ford Car, Truck, and SUV Dealer!
Are you searching for your go-to Ford dealer in Buckeye? As your preferred new and used car, truck, and SUV dealer in Buckeye, we know that purchasing a new Ford can be a bit overwhelming. Finding the perfect Ford dealership near Goodyear, Laveen, or Litchfield Park isn't everyone's idea of a fun Saturday afternoon. That's why we here at Jones Ford Buckeye always aim to be the best new and used car dealer in the Greater Phoenix Area, including Avondale, Surprise, Glendale, Waddell, and Peoria. We strive for a Ford buying experience that is almost as fun and stress-free as driving the vehicle itself. No matter what your needs are, from finance to service and parts, we want to be the ones who get you back on the road again sooner and for less!
Why Choose Us for Buckeye Auto Sales?
As mentioned above, we are a full-service car dealer in Buckeye that puts your needs first. As a Buckeye new car dealer, we can help you find a brand-new Ford that checks all of the boxes on your wishlist. Then, we'll hand it over to our finance team so that you can secure some of the best financing or leasing rates in the area. We are also a Buckeye used car dealer with plenty of pre-owned Ford models and used cars from other top manufacturers. We have a diverse inventory that is just waiting for a test drive.
Your Local Area Service Experts
Of course, it doesn't stop there. Our mission is to be the automotive resource for drivers in Buckeye and beyond. We aim to keep building on our reputation as a dealer with an incredible selection of new and used Ford cars, trucks, and SUVs and as a place for next-level after-sale service including parts, service, and tires. Whether you are in Goodyear, Glendale, Avondale, Surprise, Peoria, or right here in Buckeye, we are the local area new and used Ford dealer you can count on to keep you rolling for many years to come!
Get in touch with us today to book your test drive! We're proud to be your favorite Ford dealer in Buckeye.
Contact Us
RECENT GREAT EXPERIENCES!
This was the easiest time I've ever had buying a car. It was so smooth.
Frank Bon is absolutely the best person to work with at Tom Jones Ford. We have purchased several vehicles with Frank's help and have been extremely happy with each purchase. We also appreciate his help with any questions and help with service after the purchase Look for Frank if you are looking for a positive experience when purchase a vehicle.
Frank di and exceptional job in getting me into this truck. We communicated on the phone and when i arrived, had truck. all ready to test drive. Very nice clean truck. Was not at dealership. 1 hour-paid down payment and they delivered next day. Handed driver payoff check. =GREAT GREAT SERVICE THANK YOU
A sales person was really friendly. They all were really great. Only problem I'm having is to get my FordPass on my phone and the salesman's tried several times not getting done. That's the only thing that I'm not satisfied with.
I bought a 2015 Ram 2500 from Jones Ford Buckeye. I had a great experience from start to finish. The price of the vehicle was fair. The condition of the vehicle is great. The people I worked with, specifically Dejon and James were awesome. The process was quick and easy. Thank you.
Absolutely a positive experience and want to thank Eric Morales for making the whole experience a very pleasant one. The whole Jones Ford team was very accommodating and professional. Recommend and will buy from again!
Service department was helpful and knowledgeable in diagnosing the issue with my 2016 Escape. The problem was explained to me so I could understand.
I recently had an exceptional experience at Tom Jones Ford and I can't say enough good things about both the dealership and my salesperson, Frank. From start to finish, the entire car-buying process was seamless and enjoyable, thanks to their outstanding service. First and foremost, Frank deserves special recognition for their exceptional professionalism and customer-oriented approach. From the moment I stepped onto the lot, he made me feel like a valued customer. Frank took the time to truly understand my needs and preferences, ensuring that I found the perfect car to fit my lifestyle and budget. He was incredibly knowledgeable about the vehicles in stock and was able to answer all of my questions with confidence and expertise. Moreover, Frank demonstrated remarkable attention to detail. He meticulously went over the features and benefits of the car I chose, ensuring that I was comfortable and confident with my new purchase. His thoroughness extended to the paperwork and documentation, making the transaction smooth and hassle-free. In conclusion, my experience at Tom Jones Ford was exceptional, thanks in large part to the outstanding service provided by Frank. If you're in the market for a new car and want a stress-free, customer-centric experience, I highly recommend them. They truly went above and beyond to ensure I drove away with the perfect car, and I couldn't be happier with my purchase. Thank you, Frank, and thank you, Tom Jones Ford, for making my car-buying experience a memorable one.
Outstanding service and support, my salesman Eric Morales was fantastic, he kept informed during the whole process. Highly recommend Jones Ford Buckeye
No pressure sales & finance team. No switch and bait of vehicles with if I liked one at a different location they would bring it to Buckeye, for free! Took out the stress of anxiety of car buying process!
Great service & good atmosphere, constant updates on what was going on!
De'Jon was the coolest salesperson I have ever worked with. Tom Jones Ford Buckeye has a relaxed, no pressure sales & Finance Team! Had the vehicle I wanted to look at but discovered not quite what I wanted, was looking at another one and it was the right one! Again, no pressure, came in with numbers that I needed to stay at and they made it happen! Bonus....they filled it up with gas! Never had that happen before! Ask for De'Jon!
Was a good experience purchasing my new vehicle. Everyone was nice and easy to work with. No pressure to buy which was nice for a change
Amazing sales person(Larry) no pressure at all to buy. My purchase went easy and smooth. Thank you Larry!!! I will definitely let people know about Tom Jones Ford in Buckeye AZ
Great Experience buying a vehicle from Jones Ford. Would do it again!
Eric Morales was our salesman. He did an excellent job and presented very professional. We love our new 2024 Ford Edge Titanium
Our experience with Jones Ford and Larry was amazing!! I called and talked to Larry ahead of time to let him know my dilemma and that was I have a teenager with a chronic illness who could not be left alone long without an adult but because she still is a teenager she wanted to stay home and not sit at a dealership for hours going through the process!! He promised me that he would have me in and out as quickly as he possibly could. From the minute I walked into their showroom to the minute I left in my new (used) car he had me out of there in a little over an hour!!! I needed a new car bad to take my daughter back and fourth to her doctors appointments and didn't have any real credit accounts in my credit but Larry made it work and for an amazing price!!! I have never owed a vehicle this new before and I could not be happier!!!Thank you Larry we love our new car and will definitely be back in the future!!!
Easy to work with no pressure sales.
Was on vacation, and our car battery was acting up. O'Reilly Auto Parts had one and called over to Jones Ford for us to install. They got us right in and on the road. Wish I could remember her name.
I worked with Larry he did a great job. I cannot say enough positive things about my experience working with Larry this afternoon. This place was great they were all so nice and so helpful they did everything I asked and they did what was best for me buying a vehicle. I will be coming back to one's Ford Buckeye
Worked with Josh and Colin and they did a great job. Jones Buckeye had the exact Maverick we were looking forward to. Our entire process was efficient and only took a couple of ours. Finance was informative but not overly pushy. The salesman, you could tell, really had a passion for the vehicles he sold. Highly recommend Jones!
Alan handled all my service needs reviewing all that was done and any up coming service needs I need to be aware of
Jones Ford service department is top notch. Alan and Scotty went well above and beyond to help me out in a time of need. A big thank you to the staff!
The dealership is clean and inviting. My salesman Eric and Justine in accounting treated me with respect and both were right there to answer any questions I had about the truck. It was overall a great experience. I love the truck so far and Jones Ford assured me that they would be there to handle any problems or concerns.
I was looking for a new truck and the process was super easy. Mike Stapley has to this point been my favorite salesman to work with. I wasn't pushed to buy something I didn't want, they didn't hide anything from me, even explained some things to me about how the financing and sales works behind the scenes. I can't recommend this dealership enough, and I can't recommend mike enough. Just an overall great guy and a great team running the show there. If you're looking for a place to shop used or new, I'd start here.
Jones Ford Buckeye
24600 West Yuma Road
Buckeye, AZ 85326
Sales:
623-225-7699
Service:
623-225-7797
Parts:
623-239-1687
Directions